DevOps.com
Home » Blogs » Internal Makes On-Premises Edition of No-Code Tool Available


By: Mike Vizard on January 12, 2021 Leave a Comment
Internal today launched an on-premises edition of its eponymous no-code development platform that promises to simplify application development backlog reduction for enterprise IT organizations.
Arisa Amano, CEO of Internal, said many professional developers regularly find themselves building simple applications that, if given access to the right tools, could be built instead by end users. Internal was created to provide that capability either through a cloud service or, now, through an on-premises edition.
The on-premises edition makes it simpler for developers to work with databases, application programming interfaces (APIs) and applications that reside behind a corporate firewall, Amano said.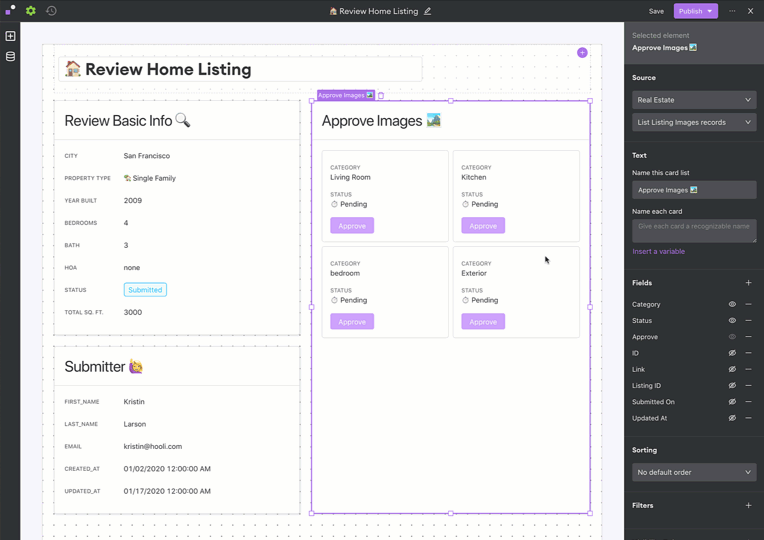 As organizations accelerate digital business transformation initiatives, professional developers are pressed to build and deploy more complex applications faster. Many lower-priority application development projects are sidelined simply because developers don't have time to take them on. Internal, and other no-code and low-code application development tool providers, are making a strong case for enabling end users to build their own applications using graphical tools, or encouraging professional developers to use these tools to build less complex applications more quickly.
A survey published by Internal finds 62% of respondents report their developers spend more than 25% of their time fulfilling requests to build internal tools. More than three-quarters of respondents (79%) said engineers use any extra time they can find to develop customer-facing features or other applications.
Most of the projects filling application backlogs tend to involve workflows that span multiple applications running in a data center. The challenge organizations face is low-code and no-code tools that reside in the cloud can't easily access that data. As such, Amano said there's a clear need for a no-code tool that can be deployed in an on-premises IT environment.
Of course, regardless of who builds the application, it still must be deployed. Challenges arise as developers build more applications, which must be concurrently deployed in production environments. The addition of no-code and low-code tools, and the applications created with those tools, will require organizations to rethink and refine their DevOps processes.
Historically, professional developers have tended to view no-code and low-code tools as the application development equivalent of a black box preventing them from building reliable, robust applications that can scale. Many low-code and no-code applications that organizations build, however, are meant to used internally by a finite number of end users. At the same time, no-code and low-code tools become more robust with each major update.
Whatever bias may exist, the current application development backlog in most organizations is only going to increase. Professional developers may prefer to write code at a lower level than a no-code or low-code tool allows; however, most business executives are more interested in application performance than in how it was constructed.
Filed Under: Application Performance Management/Monitoring, Blogs, Cloud Management, Low-Code/No-Code Tagged With: API, application development, Internal, low-code platform, no-code development
document.getElementById( "ak_js" ).setAttribute( "value", ( new Date() ).getTime() );




© 2021 ·Techstrong Group, Inc.All rights reserved.