Stay ahead of the tech that matters: Attend in-person QCon London (April 4-6, 2022), or online QCon Plus (May 10-20, 2022). Register Now
Facilitating the spread of knowledge and innovation in professional software development

After shortly introducing design patterns at different level of abstractions, this article will present a few patterns specifically suited to serverless systems, including the Pipes and Filters pattern and show a POC implementation using AWS EventBridge.
Alex Gallego discusses the lessons learned building a new storage engine from scratch with no virtual memory, no page cache, with purpose-built read-ahead and write-behind strategies.
In the podcast, Meenakshi Kaushik and Neelima Mukiri from the Cisco team speak on responsible AI and machine learning bias and how to address the biases when using ML in our applications.
In this podcast Shane Hastie, Lead Editor for Culture & Methods, spoke to Anand Safi about making the shift from being an individual contributor to an engineering manager
John Egan discusses how companies of any scale can improve their understandability by lowering their barriers to incident reporting and simplifying their processes for documenting postmortems.
Learn from practitioners driving innovation and change in software. Attend in-person on April 4-6, 2022.
Uncover emerging trends and practices from software leaders. Attend online on May 10-20, 2022.
Your monthly guide to all the topics, technologies and techniques that every professional needs to know about. Subscribe for free.
InfoQ Homepage Articles Lightweight External Business Rules
Dec 03, 2021 10 min read
by
Soham Sengupta
Srijeeb Roy
reviewed by
Erik Costlow
Complex enterprise applications usually come with varying Business logic. Such conditions and subsequent system actions, known as RULES, are ever varying and demand involvement of Domain-Specific Knowledge more than technology and programming. The rules, therefore, must reside outside the codebase and are to be authored by people with Core Domain expertise with little to no- technical /programming knowledge. A specific type of Software Tools, known as Rule Engines, cater to this context. Domain experts need not necessarily be active contributors to coding and technology, very much like brand-and-marketing teams who need not be aware of underlying technologies of the organization's portal and mobile application but be happy to author images, banners and other contents with little effort, with the ease of using one's Instagram handle. Adobe aem is one of the content management systems that offers no-code / low-code content authoring. emerging technologies and cloud platforms have been constantly coming up with low-code and no-code solutions which have been widely embraced. This article presents a lightweight approach to externalize business actions into low-code tools, enabling contributions from people with respective domain expertise.
While we have many such Rule engines around, such as Drools (which is a feature-rich Business rule management system), easy rules, rule book, oracle rules SDK, Blaze (fico), IBM decision manager etc. enabling rule management declaratively with their respective rich features including version control are often very useful for lot of the applications. however, in certain lesser complex solutions, they often turn out to be overkill and remain underutilized. maintenance of an additional component becomes more of a liability than an asset.
In this article, we attempt to illustrate how inherent features of Java can be leveraged to externalize Rules in the simplest possible way, without narrowing down to any transitive dependency of additional frameworks. The approach is useful when technical rules (snippet written in java) needs to be externalized and can change frequently. The approach, therefore, holds equally worthy across any Java ecosystem, regardless of frameworks. Providing a simple POJO based declarative model for rules (which are java code snippets representing a predicate or an equivalent lambda expression) that are loaded from an external source, say, for example, a file or a URL, (an external source whose contents are in the Java lambda-style expressions or java code snippets) ranging from an on-premise database to a cloud resource ), it allows rules to be authored outside the application without even requiring application downtime. We can integrate it easily with Spring microservices and cloud configuration with and without Cloud bus. The approach provides encryption-at-rest to ensure safety (Confidentiality and Integrity) of business rules. Plus, apart from supporting Jasypt and Spring Config Ciphering, any custom security can be plugged-in to it.
Try NGINX Plus and NGINX App Protect – Free for 30 Days.
The most conventional and ideal approach to cope up with frequent changes of Business Logic is a rule engine. A rule is generally a set of IF-THEN conditions.
RULE ≡ CONDITION + ACTION
Rule engines are Software Tools which, in short, provide us with the ability to set rules outside the source code. They allow rules to be set in various ways and by semi-technical/ non-programmer folks. They leverage Domain Specific Knowledge and offer GUI driven, intuitive authoring of Rules. Drools, DTRules, Oracle Policy Automation system, Easy-Rules are few examples of Rule Engines.
Traditional rule engines that enable Domain-experts to author rule sets and behaviors outside the codebase, are highly useful for a complex and large business landscape. But for smaller and less complex systems, they often turn out to be overkill and remain underutilised given the recurring cost of an on-premises or Cloud infrastructure they run on, License cost, etc. For a small team, adding any component requiring an additional skill set is a waste of its bandwidth. Some of the commercial rule engines have steep learning curves. In this article, we attempt to illustrate how we succeeded in maintaining rules outside source code to execute a medium scale system running on Java tech-stack like Spring Boot, making it easier for other users to customize these rules..
This approach is suitable for a team that cannot afford a dedicated rule engine, its infrastructure, maintenance , recurring cost etc. and its domain experts have a foundation of Software or people within the team wear multiple hats.
This minimalist approach suits people who start a business – as we have always seen many big companies originated with small teams and budget and excellent talent and innovative ideas . Though size of team may not be perfectly conclusive , a team size of 10 or less with those given constraints gets the full benefit of this approach.
Teams having bigger size may benefit , as well , having cut down on dedicated rule engines unless all cool and major features of a commercially used one , are required.
Fig. 1 illustrates a higher-level, functional overview of the mechanism, while the steps listed below describe each of these components: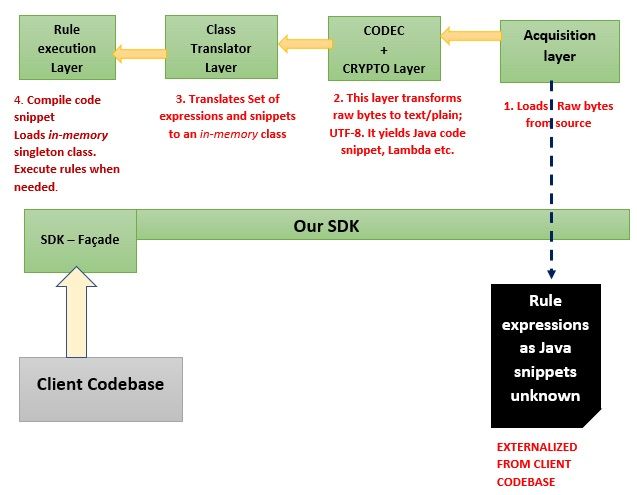 Figure 1
Though it's ideal to peek into the structure of an SDK before starting to work with it, we reverse the sequence for ease and simplicity. In this section, we illustrate, with simple problem statements or use-cases, how rules may be externalized.
The consumers must have prior exposure to Software development with Java SE 1.8 or higher. That apart, a standard machine with Java SE 1.8 with an IDE is required. Throughout the article, Eclipse will be used as the IDE and MAVEN as the build tool across all illustrations.
STEP-1:
Download the Library from here and keep it on your local path, E.g., D: externalize-rules.jar. Here is The full source codes.
STEP-2:
Create a Maven project with compiler source level set to 1.8 with the dependency as shown to the right.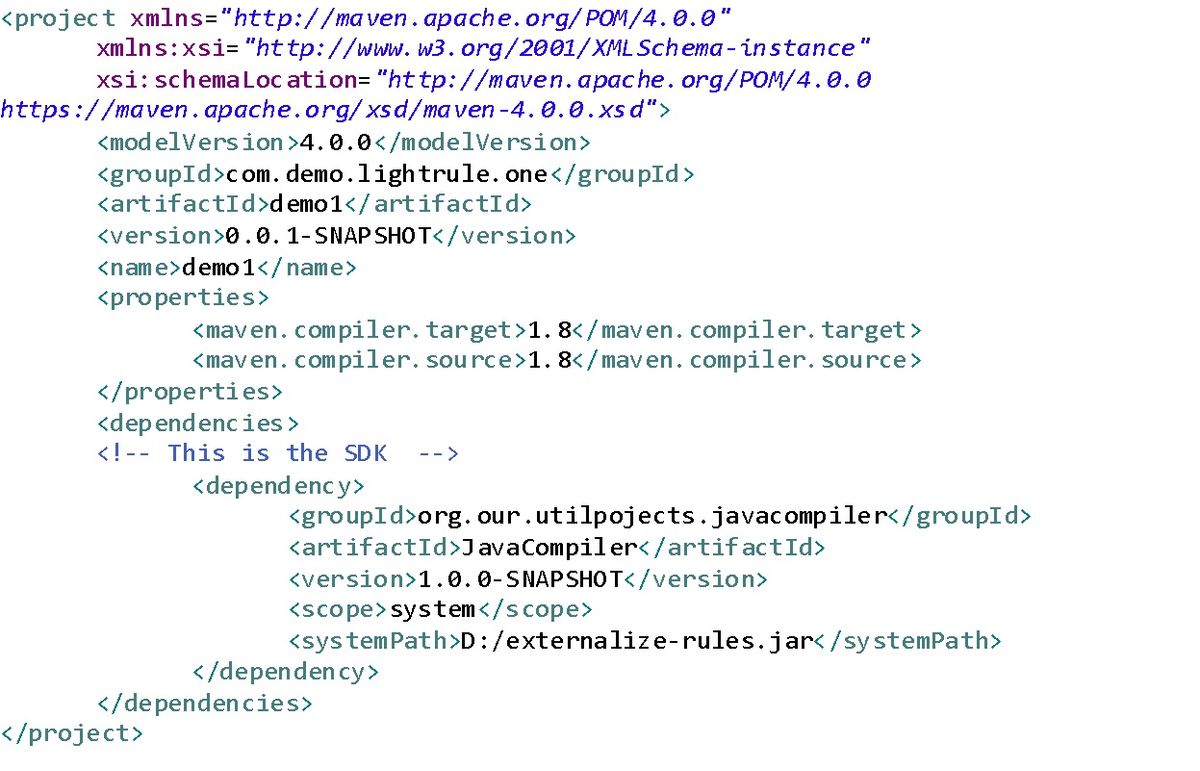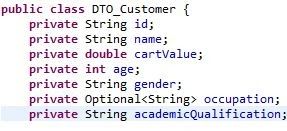 PROBLEM STATEMENT: A valued garment retail outlet is to offer discounts to its customers on different, frequent occasions with a varying set of criteria of edibility, such as occupation, income level, location, level of education, etc. To uncomplicate, we assume a simple customer model class –
We further assume a class, Repo_Customer , which caters as the source of customers-information and picks customers qualifying for discount given a certain eligibility criterion.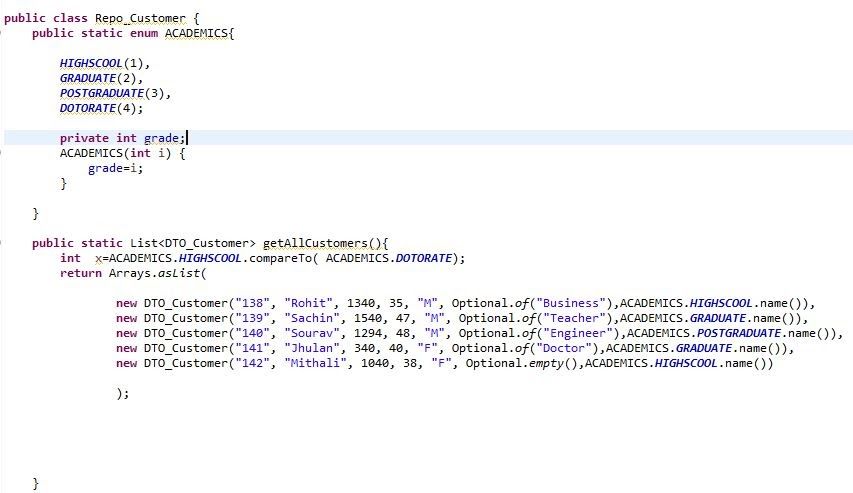 So long, it's all usual; and we can define discount-eligibility rules using any one or a combination of the following: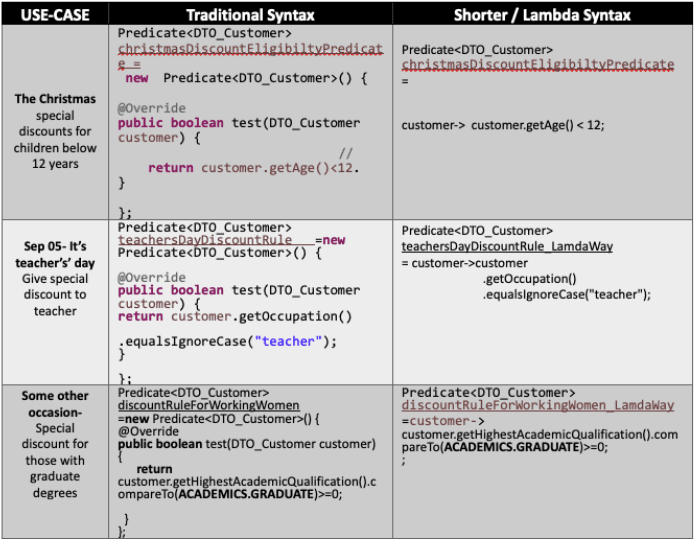 STEP-3: It's noteworthy that lambdas are less verbose and subject matter experts might define rules using these without having an in-depth knowledge of Java programming language.
We keep the discount rule outside the codebase since it might change frequently. And choose the simplest among all available options – we store the rules in a file on a local disk. The SDK helps loading these rules and executing them. The file below is stored on local disk:



We have created our own markup standard in the file (which can be whatever one designs and implements and not restricted to any specific implementation):
<RuleName><ColDelimiter><TargetModel><ColDelimter><LamdaExpression><RowDelimiter>
STEP-4:
Finally we write this small code to check our rules, to see if the rules execute :


Now that we have successfully started and written a simple quick-start program, we can go back and start exploring what this SDK did, with illustrations.

We already used PredicateRuleExecutor in [2]. This is a special implementation of com.yourcompany.libs.externalizedrules.poc.RuleExecutor<T, R> which evaluates to a Boolean.
It performs the following 3 tasks:
We shall shortly illustrate how we can load rules from a few major and common sources.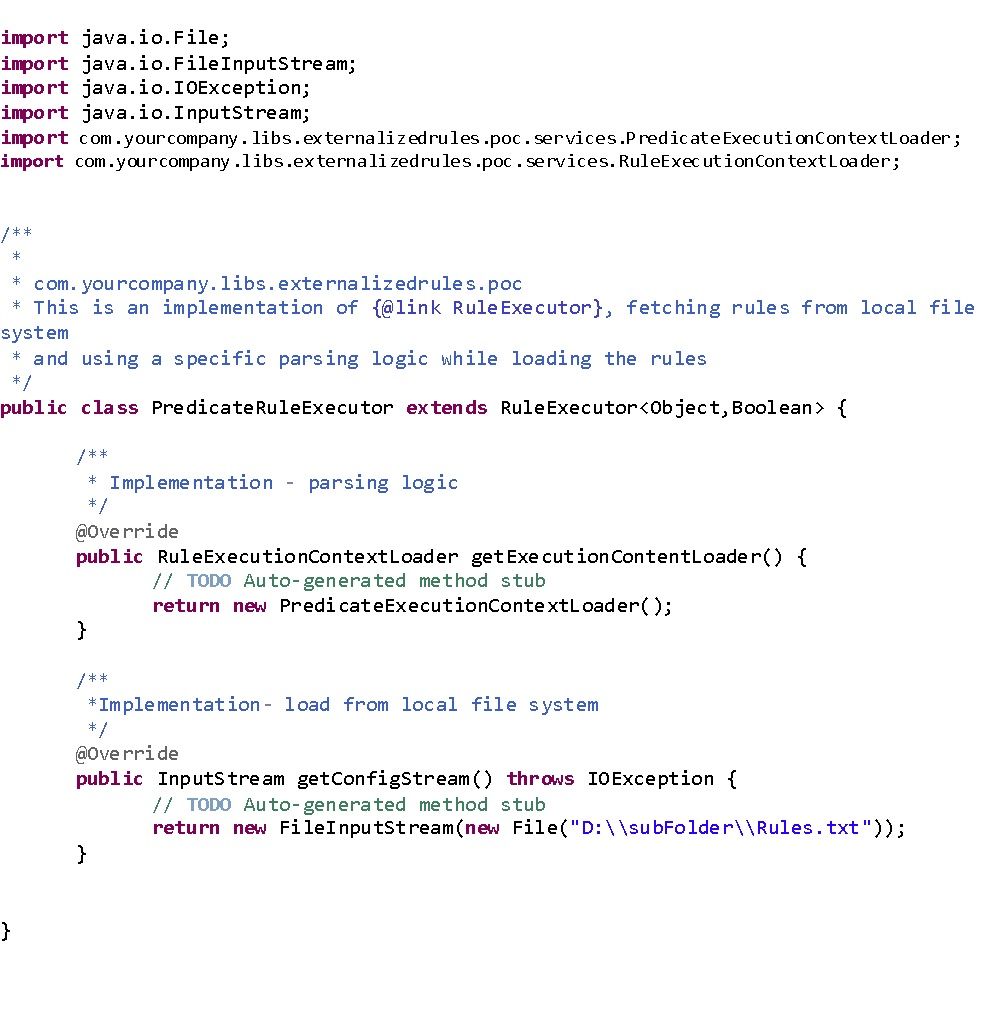 In this section we explore a few common but important sources where configuration can be loaded from.
We have already seen the utility of the SDK coarsely as a PoC. However, the authors are in the process of contributing to shape it as an open-source project. In this section, which is the article's last, we aim to highlight some of its salient features:


Soham Sengupta has 16 years of experience split vertically across Academia, Research and Industry. A Master of Technology in Mobile Computing and Network Technology, he has been heading digital transformation for PAYBACK India. A sincere admirer of basic science, an avid lover of literature, he's a passionate coder and enjoys sharing his ideas, which often turned out to be ahead-of-time, and thus innovative, on social platforms. More about the author may be found on his LinkedIn.


Srijeeb Roy has more than 23 years of experience in the IT industry. He holds a bachelor degree in Computer Science & Engineering from Jadavapur University, India. He has led the Java Center of Excellence (CoE) of Insurance Vertical of TCS in the past, and is currently focusing on various digital technology accelerators, which can help TCS customers to accelerate their digital journey. He has more than 20 years experience in Java/J2EE/JEE, Spring technologies and hybrid mobile app frameworks. He has written several articles on Java SE, EE and ME on Infoworld.com (previously JavaWorld.com) in the past
A round-up of last week's content on InfoQ sent out every Tuesday. Join a community of over 250,000 senior developers. View an example
We protect your privacy.
You need to Register an InfoQ account or Login or login to post comments. But there's so much more behind being registered.
Get the most out of the InfoQ experience.
Allowed html: a,b,br,blockquote,i,li,pre,u,ul,p
Allowed html: a,b,br,blockquote,i,li,pre,u,ul,p
Allowed html: a,b,br,blockquote,i,li,pre,u,ul,p
A round-up of last week's content on InfoQ sent out every Tuesday. Join a community of over 250,000 senior developers. View an example
We protect your privacy.
QCon, the international software development conference, is returning (in-person and online) in Spring 2022.
QCon brings together the world's most innovative senior software engineers across multiple domains to share their real-world implementation of emerging trends and practices.
Find practical inspiration (not product pitches) from software leaders deep in the trenches creating software, scaling architectures and fine-tuning their technical leadership to help you make the right decisions.
Attend in person at QCon London, (April 4-6) or online at QCon Plus (May 10-20). Save your spot now!
InfoQ.com and all content copyright © 2006-2021 C4Media Inc. InfoQ.com hosted at Contegix, the best ISP we've ever worked with.
Privacy Notice, Terms And Conditions, Cookie Policy