Get a snapshot of the issues affecting the IT industry twice a week straight to your inbox
Follow us @informationweek to stay up-to-date with the latest news & insider information about events & more
Get a snapshot of the issues affecting the IT industry twice a week straight to your inbox
Follow us @informationweek to stay up-to-date with the latest news & insider information about events & more
Get a snapshot of the issues affecting the IT industry twice a week straight to your inbox
Follow us @informationweek to stay up-to-date with the latest news & insider information about events & more
There's clearly a micro-bubble brewing around low-code/no-code technologies, a software environment where non-programmers can drag and drop applications, according to the numerous new product category ecosystem maps popping up in the venture capitalist community. The growing volume of inbound sales calls related to low-code/no-code vendors means it's time to address the opportunities and challenges within the enterprise user community. Though vendors would lead you to believe that low-code/no-code tools are a quick and easy fix for issues in application creation and workflow management, certain challenges exist that need to be taken into careful consideration before making the most of this new and innovative technology.
There are complex technical issues that need to be addressed before we can expect low-code/no-code platforms to become the new norm. There is still an existing learning curve with these technologies that IT leaders and CIOs must consider before implementing the tools. This will require some degree of "unlearning" before we can truly benefit from what these applications have to offer. Though the opportunity is immense and may help guide the course of modern development, IT decision makers should continue to do their research and treat this emerging technology as they would any other — by thoroughly vetting the advantages and disadvantages before jumping into immediate implementation.
Highlighting the opportunity
Even though there are existing challenges, it's important to acknowledge the vast benefits employees will experience if the technology is implemented in the correct way:
In an EY case study published in October 2020, a group of business practitioners automated a legacy business process that involves a complex checklist to track the workflow associated with a typical audit engagement. The original process involves a complex spider web of manual processes, Excel data processing and PowerPoint reports. The EY team was able to replace all of this with a simple, low-code workflow app using the Microsoft Power Platform. A typical IT project that might have taken months and heavy financial investment just a few years ago, can now be delivered in weeks for a fraction of the cost.
Preparing for challenges
While challenges around low-code/no-code technology exist, they can be managed. But as always, before rushing in and overhauling existing systems, CIOs and other leaders should consider what possible issues may arise:
Looking ahead
While these challenges are real issues that we must account for, many of them can be addressed with careful deliberation. Before jumping into enterprise industry-wide adoption, all will need to see which vendors pull ahead as platform leaders, observe how others are able to integrate new practitioners and communicate openly with teams on the value proposition versus the costs of these emerging platforms.
Low-code/no-code platforms may very well be the game-changing solutions that many claim they are — but CIOs and IT leaders should take careful consideration when choosing what to implement across their teams, as they would with any type of emerging technology.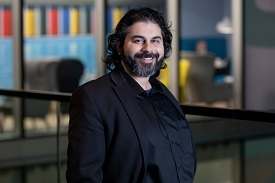 Ken Priyadarshi is a strategy, architecture, and engineering executive serving multi-billion-dollar service lines within EY. Ken has served C-suite and Fortune 100 clients across a broad mix of strategy, cloud, data and AI engineering projects in Silicon Valley and Wall Street. He specializes in building industry XaaS platforms and AI/data applications. Ken's most recent work is focused on using low-code technologies to help democratize enterprise and client apps on hybrid/multi-cloud topologies. Ken's typical client verticals include high-tech, financial services, and industrials.
The views reflected in this article are the views of the author and do not necessarily reflect the views of the global EY organization or its member firms.
Copyright © 2021 Informa PLC Informa UK Limited is a company registered in England and Wales with company number 1072954 whose registered office is 5 Howick Place, London, SW1P 1WG.