Every day, nearly 4000 apps are added to the Google Play Market. The creation of each of them costs money, creativity, and efforts, so on the wave of such a strong demand for their solutions of all kinds, the businesses are logically looking for opportunities to cut the development costs without sacrificing the results. While software development outsourcing can also be an option in this case, low to no-code development platforms can promise even better opportunities to the companies on the way to digital transformation. Let's find them out. 
A low code approach means using a pre-developed environment to build, test, and run your applications. 
According to the Low-Code as Enabler of Digital Transformation research, "The main objective of the low-code development platforms is to allow enterprises to develop apps without complex engineering facilitating their configuration, and then achieving rapidity and agility. Moreover, these platforms also offer enterprises a more economical way to fulfill the market and/or enterprises internal requirements."

These are also the reasons why the low-code development market size is expected to grow, and the dedicated solutions for app self-build are chosen by both small and leading companies more and more often.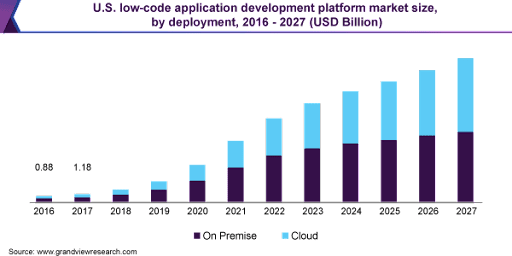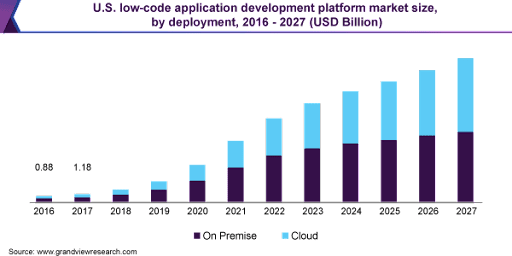 While some experts say that low to no-code tools are pretty limited, they still cover most of the use cases the modern companies face to streamline their performance, improve a  specific process or advance the solutions they already have/. Below are the most frequent use cases of the best simple low code tools.

Regardless of the use case, the low to no code software building platforms can offer the companies the whole range of benefits, covering the operational costs cutting, faster time to market, fewer troubles with hiring the necessary talents, plus ultimate customization and seamless integration of already developed solutions with no-code ones.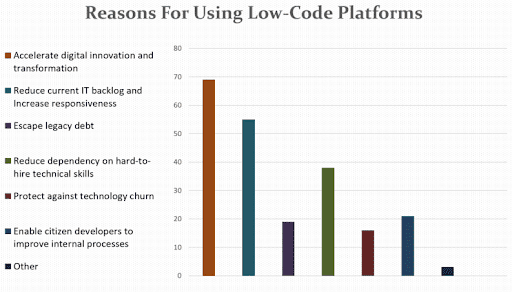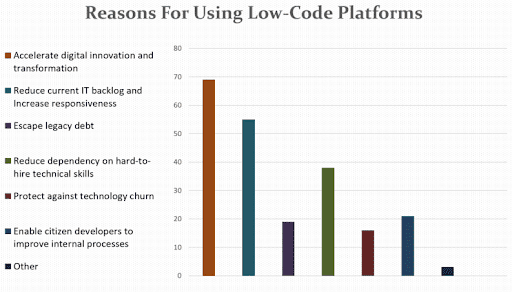 Low code and no-code tools are the solutions worth trying in 2021, especially if you are on the way to digital transformation. The large choice of the platforms promises an opportunity to pick the one that will be pretty effective for your use case. What's more, you can get started having low to no development skills – in this case, you are better to choose a no-code software to test the way it works, give it a try and create a viable prototype of your idea. 
No-code application development means the process of using dedicated software to create your own software. Such a strategy requires fewer coding skills, fewer costs, and is less risky compared to the traditional software development approach. Still, there is a need for ideas validation and careful testing, and most of the low code tools come with these features as well. 
Low code development tools are the platforms or environments that come with the predeveloped set of features the developers can customize according to the project needs. They also provide all the necessary functions for future solution prototyping, validating, testing, launching, running, and maintaining. 
Using a low-code approach to software development is trendy since it offers a lot of benefits. The most significant ones refer to the opportunity to significantly cut costs, avoid hiring a large tech team, decrease the risks, and get started with affordable and effective digital transformation, perfectly tailoring each of your low-code apps to the business process or use case. 
According to reports by Allied Market Research, global payment processing was valued at $39.57…
A report published on Statista revealed that there had been a little improvement in…
Cryptocurrencies are creating a new age of transacting in the financial system. Today, a…
In 2021, the "smart money" from leading institutions and asset managers has been piling…
Artificial intelligence (AI) can be the most prominent new industry in the 21st century….
Vancouver, Canada – Edenia, the parent company of EOS Costa Rica (https://eoscostarica.io/), a blockchain…
Every day, nearly 4000 apps are added to the Google Play Market. The creation…
Founded in 2015, Sextant Stays is a next-generation hospitality brand that specializes in full…
Whats NFT? For starters, NFTs are unique digital tokens that can be used to…
eCommerce will account for at least 22% of global retail purchases by 2023. As…
Singapore, Oct 12th, 2021 — While normally specially reserved for big-time institutional investors, MRHB…
Every business strives for long-term profitability, and the latter is impossible without a considerable…
Non-fungible token (NFT) initiatives continue to make headlines worldwide, contributing to a growing awareness…
SEOs have become a game-changer and so have the SEO companies by helping the…
Irrespective of the tremendous growth of the crypto market, it still lacks investor confidence….
Recently, the globe went back to the social media dark ages. Facebook, Instagram and…
Instagram is one of the most popular and fastest growing social media platforms on…
It's really cool to see something different than a 10k NFT collection of animals…
A new pan-African digital currency is aiming to empower people of African descent as…
The popularity of video on demand (VoD) services is increasing owing to their ability…
Fahim Moledina, owner of OptiSyn Consulting, has years of experience in the consulting industry and has worked with a variety of clients…
October, 6th, 2021 — New York — Caserta, a strategic professional services firm focused on data and analytics implementations, has announced the…
TechBullion
FinTech News and Information
Copyright © 2021 TechBullion. All Rights Reserved.